Castle Hills, Lewisville, TX
The Realm @ Castle Hills, Lewisville, TX
The Realm @ Castle Hills is one of the most luxurious new Live-Work-Play real estate developments in the entire DFW metroplex, in one of its fastest growing areas. It's located right on State Hwy 121, with amazing visibility and access. We can't be more excited to be the salon studio destination at The Realm. 
Surrounded by shops, restaurants, offices and luxury apartments, this destination is a frequent stop for high-end clientele. The building is surrounded by free parking (including a multi-story garage with covered walkway) and secured by a 24/7 security guard downstairs. You won't find a safer, more luxurious location to take away your stress while you work tirelessly to serve your customers.
Other amenities for Cachet Family include a gym membership (included in your rent!), locker room and a massive coffee lounge with free Parks Coffee. This building is made for CEO's…like you!
Near Southside, Ft. worth, tx
451 South Main St. Ft. Worth, TX
Cachet's first location is at 451 South Main St. in Ft. Worth's Near Southside District, encompassing the entire 1st floor of the neighborhoods most iconic new building. With windows on all four sides and its hilltop perch, we have stunning views of the downtown Ft. Worth skyline. This beautiful building is truly an amazing backdrop for Cachet's luxurious and welcoming aesthetic.

Ample parking for you and your clients is on-site, along with free street parking on all four sides. 

Our spacious, inviting lounge greets  you immediately and creates a warm and welcome atmosphere for your clients.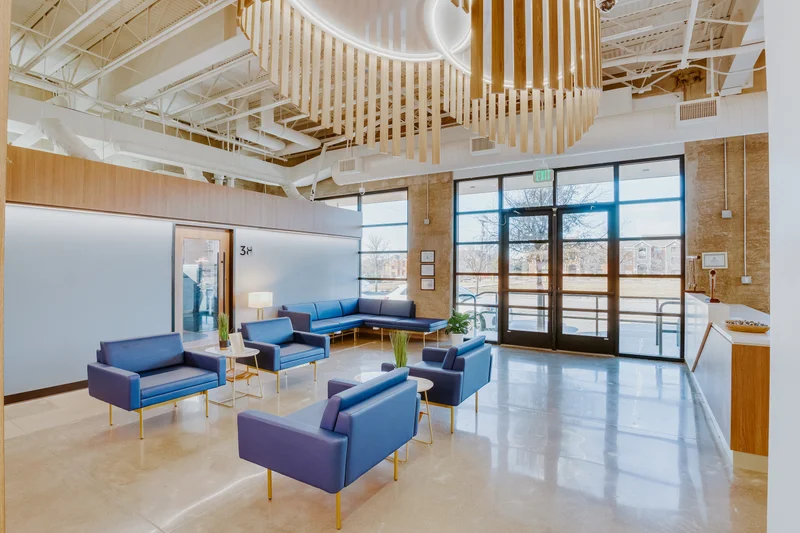 Lighting Is Everything
How often have you worried about lighting as you perfected a color or tried to take a post-worthy pic of your art? We made lighting a huge priority, both inside and outside our suites.
Preserving the top window sections above our suites brings as much light into the entire space as possible - you can see the sky from the very center of our building. Open, white-painted ceilings reflect as much natural light throughout our space as possible.
Perfect color every time
Every suite has adjustable, dimmable LED lighting in the ceilings. Get it perfect, every time.
We can adjust the color temperature of the light, so you can have the perfect light based on your preference.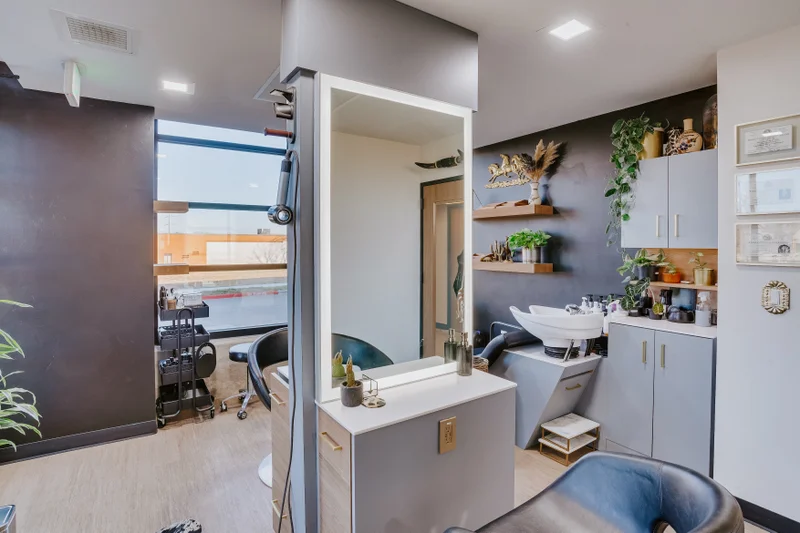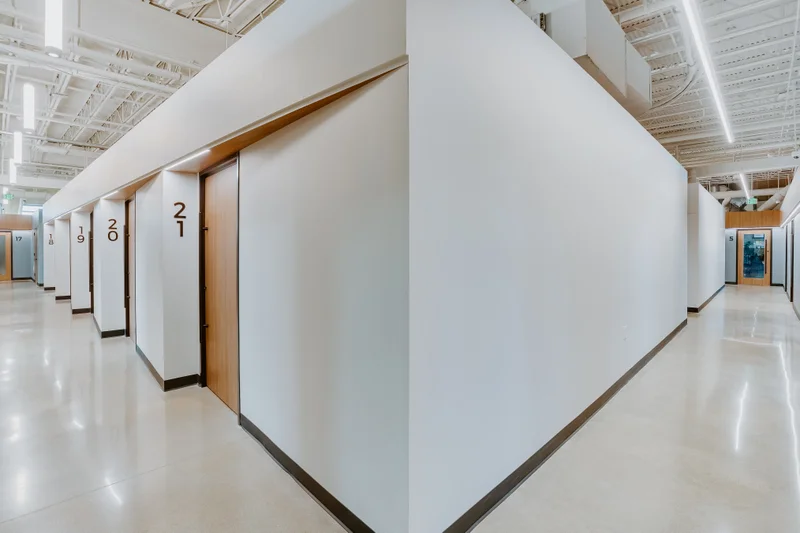 A welcome sight
Give your clients a welcome that they'll appreciate, wherever you are at Cachet.
Every suite is designed with cove lighting above the doorway, and our track lighting above exterior rooms runs the entire perimeter of the hallways.
Reflections of you
We even took lighting to the next level with our bathrooms...yeah, we're proud of our bathrooms.
A back-lit mirror and recessed LED lighting above (not to mention the marble tile walls & sleek walnut partitions) make it a pretty good selfie-station...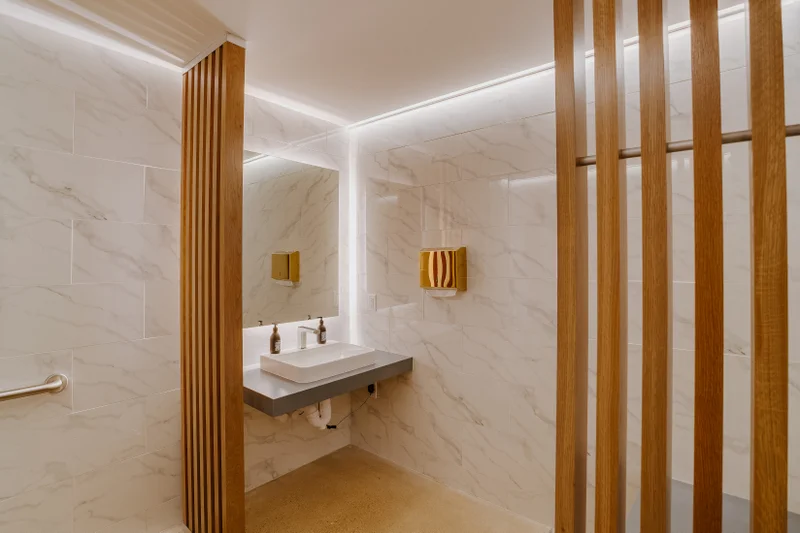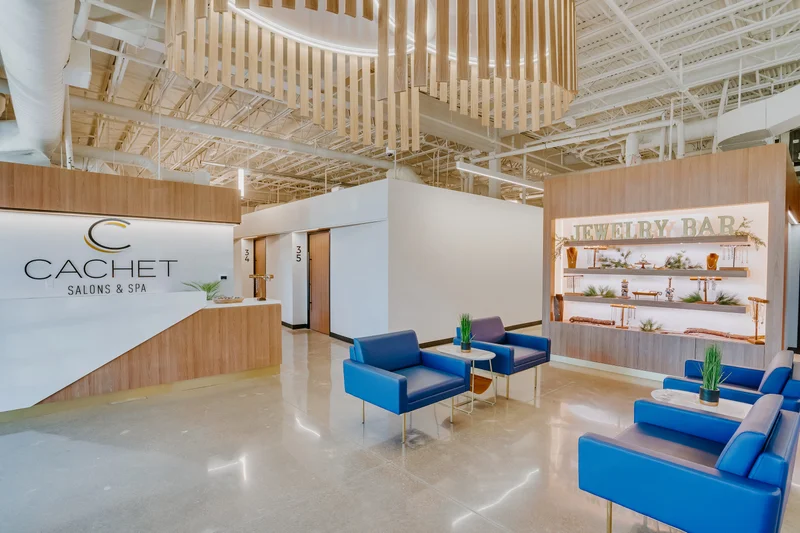 Laid back luxury
It's our favorite phrase for describing our lounge. We hope you'll find what we built luxurious, and that you'll find the people inside warm and welcoming.
Our concierge is there to make sure everything runs smoothly - we stay out of your business. It's yours. If we can help you or a client, that's what we're there for.
Our products are meant to compliment the space and add to the experience...if we can help cap off the amazing work you did for a client with a piece that puts their look over the top, it would be our pleasure.
Moments that matter
Our architects call them "moments"...we call it "making every studio matter". Either way, we want every studio to be its own moment that makes everyone glad to be there.
We designed our space to be appealing from every angle - from the polished concrete floors reflecting the light from the gallery-style lighting above...
All interior rooms are adorned with angled doorways & wood soffits overhead as you enter...adding depth and warmth to the industrial-modern motif.